Introducing Spring 3Arts/Bodies of Work Fellow Kennedy Healy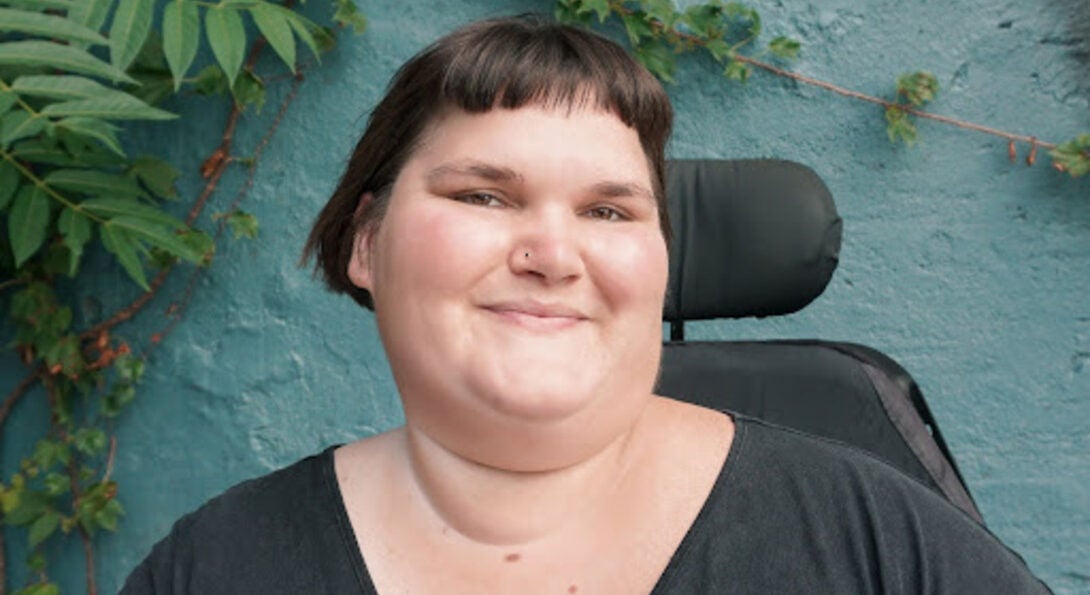 Kennedy Healy dreams of a world without fabricated scarcity. A 2023 3Arts/Bodies of Work fellow, Kennedy (she/they) is a fat, queer, disabled femme with a background in nonprofit and consulting work pertaining to disability. Kennedy's practice, which includes everything from photography to podcasting, often focuses on care: exposing the inadequate systems of care and support that currently exist and imagining community-centered alternatives founded in disability justice, abolition and anti-capitalism.
Disability justice activists have often exposed how current structures of care reinforce and recreate unfair and inequitable systems of power. In contrast to the disability rights movement, disability justice centers intersectionality within the disability community. Within this context, care work becomes political. In a 2020 blog post, Loree Erickson describes care as "a feeling, a concept, a practice, a form of labour (both paid and unpaid)... Care is political and operates within the flow of power." In her 2018 book Care Work: Dreaming Disability Justice, activist and poet Leah Lakshmi Piepzna-Samarasihna argues that care work and crip-made access should stem from "a model of solidarity not charity — of showing up for each other in mutual aid and respect."
Kennedy's practice builds on these understandings of care as tied to disability justice. Her visual art and photo project, Care (2021), created in collaboration with care worker and photographer Marley Molkentin, calls out the state-funded home care system through which Kennedy receives services. When the Covid-19 pandemic hit, Marley began working for Kennedy as a Personal Assistant (PA). Kennedy is high-risk, and had to trust her care workers not to expose her to the virus with little support from the state — in fact, Illinois only provided one mask to PAs during the height of the pandemic in 2020. As part of this project, Kennedy and Marley documented their relationship as care worker and recipient in this series of photographs.
The photographs don't depict a one-sided interaction between Marley and Kennedy. Instead, they demonstrate the pair's interdependence and agency. As disabled activists like Piepzna-Samarasihna and Mia Mingus have argued, care work is not tragic and it does not have to only meet one person's needs. Needs can be met in creative and collaborative ways. Care was recently exhibited at Gallery 400 and featured in the Chicago Reader and the Disability Visibility Project blog.
While Kennedy has explored a variety of artistic media, they consider themself to  primarily be a writer. In December 2021, they founded Crip Crap Media, a disability media company creating a variety of content about disability, by and for disabled people. This philosophy is at the heart of much of Kennedy's work, as they shared in a 2023 interview, "I've really shifted my audience mainly to people with disabilities in the past few years." In thinking about Crip Crap's audience, Kennedy believes that "content catered to us is much more effective in educating non-disabled people as well, because it doesn't assume they're the center of every conversation or the default."
Crip Crap's many projects include a blog reviewing representations of disability in media and a podcast, co-hosted with fellow artist, disability activist, and former 3Arts/Bodies of Work Fellow Justin Cooper. The company also provides consulting for media, art, and theater entities, supporting the development of disability-friendly media and workplaces. In the spring of 2022, Crip Crap entered the Easterseals Disability Film Challenge with Section 504, about a blind superhero who only has access to ableist news coverage. You can watch the film, and other amazing entries, here.
For the 3Arts/Bodies of Work residency, Kennedy is developing a new musical, Care: The Musical, about a group of disabled people and their care workers in Chicago. They also envision creating a children's book about care. They hope the residency will provide new points of connection to the disability community. "We've been so isolated as disabled people living through a poorly managed pandemic," they write. "I'm excited for the resources and structure to connect with folks and talk about care and make art about it."
Kennedy uses humor as an effective tool against ableism and other structural inequalities. But, although projects like Section 504, a children's book, and a musical about care workers may seem light, she takes her work seriously. "I'm very interested in liberation and my work leading to that, but also in how we fold joy into that," she says. "I love to use humor, and it's not that I think the issues I do work on are at all funny, but that it's a tool to draw people into change making work."
Learn more about care work and disability justice through the resources here, compiled by Kennedy and Marley.
__________
Nora James is a student at the University of Illinois Chicago, earning her Master's in art history with a concentration in museum and exhibition studies. Her interests include contemporary art, accessibility, and crafts of all kinds.
Bibliography
Erickson, Loree. "Thinking about and with Collective Care." cultivatingcollectivecare (blog), June 17, 2020. https://www.cultivatingcollectivecare.com/post/thinking-about-and-with-collective-care
Piepzna-Samarasihna, Leah Lakshmi. Care Work: Dreaming Disability Justice.
Vancouver: Arsenal Pulp Press, 2018.
Modified on February 23, 2023